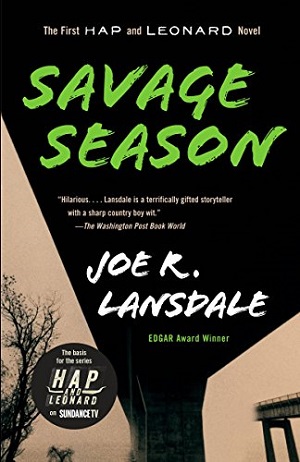 Savage Season, by Joe R. Lansdale
I started reading this after watching the first season of the Sundance television show (which I also recommend). Hap and Leonard are not what you would expect of a couple of guys from Texas.

If you're looking for source material that is faithfully adapted to the screen, this is one of them.

Amazon Description: A rip-roaring, high-octane, Texas-sized thriller, featuring two friends, one vixen, a crew of washed-up radicals, loads of money, and bloody mayhem.

Hap Collins and Leonard Pine are best friends, yet they couldn't be more different. Hap is an east Texas white-boy with a weakness for Texas women. Leonard is a gay, black Vietnam vet. Together, they stir up more commotion than a fire storm. But that's just the way they like it. So when an ex-flame of Hap's returns promising a huge score. Hap lets Leonard in on the scam, and that's when things get interesting. Chockfull of action and laughs, Savage Season is the masterpiece of dark suspense that introduced Hap and Leonard to the thriller scene. It hasn't been the same since.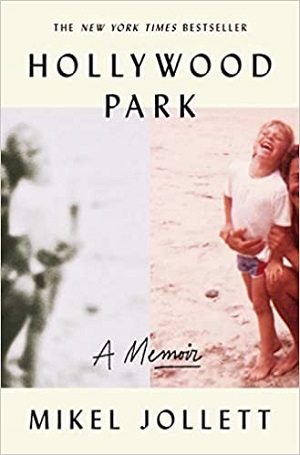 Hollywood Park, by Mikel Jollett
My current audio book read is Hollywood Park.

Mikel Jollett is the front-man for the band Airborne Toxic Event, but I had never heard of the bad or him until my preferred morning news show spotlighted this book. Jollett was born and raised in the commune community Synanon in California. In this memoir, he talks about his life after his mother stole him and his brother away from Synanon.

Amazon Description: We were never young. We were just too afraid of ourselves. No one told us who we were or what we were or where all our parents went. They would arrive like ghosts, visiting us for a morning, an afternoon. They would sit with us or walk around the grounds, to laugh or cry or toss us in the air while we screamed. Then they'd disappear again, for weeks, for months, for years, leaving us alone with our memories and dreams, our questions and confusion.…

So begins Hollywood Park, Mikel Jollett's remarkable memoir. His story opens in an experimental commune in California, which later morphed into the Church of Synanon, one of the country's most infamous and dangerous cults. Per the leader's mandate, all children, including Jollett and his older brother, were separated from their parents when they were six months old, and handed over to the cult's "School." After spending years in what was essentially an orphanage, Mikel escaped the cult one morning with his mother and older brother. But in many ways, life outside Synanon was even harder and more erratic.

In his raw, poetic and powerful voice, Jollett portrays a childhood filled with abject poverty, trauma, emotional abuse, delinquency and the lure of drugs and alcohol. Raised by a clinically depressed mother, tormented by his angry older brother, subjected to the unpredictability of troubled stepfathers and longing for contact with his father, a former heroin addict and ex-con, Jollett slowly, often painfully, builds a life that leads him to Stanford University and, eventually, to finding his voice as a writer and musician.

Hollywood Park is told at first through the limited perspective of a child, and then broadens as Jollett begins to understand the world around him. Although Mikel Jollett's story is filled with heartbreak, it is ultimately an unforgettable portrayal of love at its fiercest and most loyal.

Link for Kindle version: Hollywood Park
And I am still working my way through Jonathan Maberry's Joe Ledger series. I'm currently on book 7, Predator One, with Kill Switch and Dogs of War up next.