The Dragon Factory, by Jonathan Maberry
I'm currently rereading the entire Joe Ledger series. I finished Patient Zero last week and jumped right into The Dragon Factory.

Jonathan Maberry has a couple of internal series "mysteries" that I'm hoping I can figure out.

Amazon Description: Joe Ledger and the DMS (Department of Military Sciences) face their deadliest threat yet when they go up against two competing groups of geneticists bent on world domination.

One side is creating exotic transgenic monsters and genetically enhanced mercenary armies; the other is using 21st century technology to continue the Nazi Master Race program begun by Josef Mengele. Both sides want to see the DMS destroyed, and they've drawn first blood. Neither side is prepared for Joe Ledger as he leads Echo Team to war under a black flag.

If you are interested in starting at the beginning, here is the Kindle link for Patient Zero.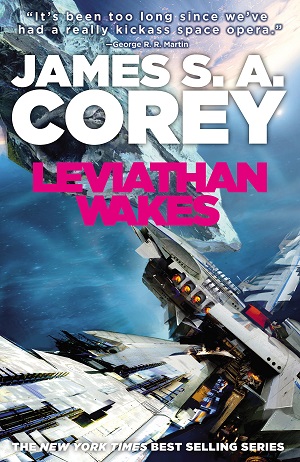 Leviathan Wakes, by James S.A. Corey
Finally got caught up on the show The Expanse and decided I needed to go back to the source. I went with the audio on this, since my partner is also interested in the books and TV series.

Amazon Description: Humanity has colonized the solar system – Mars, the Moon, the Asteroid Belt and beyond – but the stars are still out of our reach.

Jim Holden is XO of an ice miner making runs from the rings of Saturn to the mining stations of the Belt. When he and his crew stumble upon a derelict ship, the Scopuli, they find themselves in possession of a secret they never wanted. A secret that someone is willing to kill for—and kill on a scale unfathomable to Jim and his crew. War is brewing in the system unless he can find out who left the ship and why.

Detective Miller is looking for a girl. One girl in a system of billions, but her parents have money and money talks. When the trail leads him to the Scopuli and rebel sympathizer Holden, he realizes that this girl may be the key to everything.

Holden and Miller must thread the needle between the Earth government, the Outer Planet revolutionaries, and secretive corporations—and the odds are against them. But out in the Belt, the rules are different, and one small ship can change the fate of the universe.
Leviathan Wakes – Kindle Version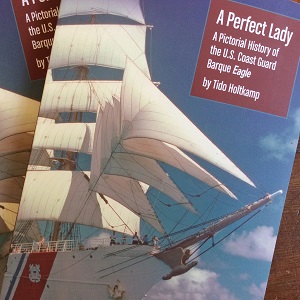 A Perfect Lady, by Tido Holtkamp
I'm a huge fan of tall ships and sailing. The USCGC Eagle is the only active tall ship currently in service in the United States.

Amazon Description: A pictorial history of the U.S. Coast Guard Cutter Barque Eagle with over 280 photographs. Since 1946, the U.S. Coast Guard has used the Barque Eagle for training their cadets and officer candidates. Over the years she has represented the United States of America at birthday and anniversary celebrations of states and cities not only in the United States, but all over the world. She has led many tall ship parades and has acted as the U.S.A. ambassador on numerous other occasions. Built in Germany in 1936 as the Horst Wessel, Eagle was taken as a war prize following World War II. Since then she has had a long, distinguished career as America's Tall Ship